For those who choose to stay in Florence at the Serristori Palace Residence we have large three-room apartments available to have a larger space or for families / groups consisting of several people.
Our three-room apartments have a size between 60 and 70 square meters and in some cases can be combined with other apartments to guarantee solutions up to 130 square meters and 10 beds in total.
Located on the second floor (accessible by lift) of Serristori Palace Residence, the Ponte Vecchio apartment is distinguished by its beautiful views of the Ponte Vecchio (hence the name) and the city. This three-room apartment consists of a double bedroom, a bedroom/study and a living room (both with a double sofa bed) and sleeps up to 6 people. Other features include a bright, fully equipped kitchen area and a bathroom with a roomy shower.
A beautiful three-rooms apartment in the centre of Florence, the Duomo has magnificent views of the hills surrounding the Tuscan city. It is located on the second floor (accessible by lift) of Serristori Palace Residence and is an excellent choice for those who want to experience Florence in maximum comfort. It consists of a bright double bedroom, living room with double sofa bed, kitchenette (separate from the living room) and bathroom with tub/shower.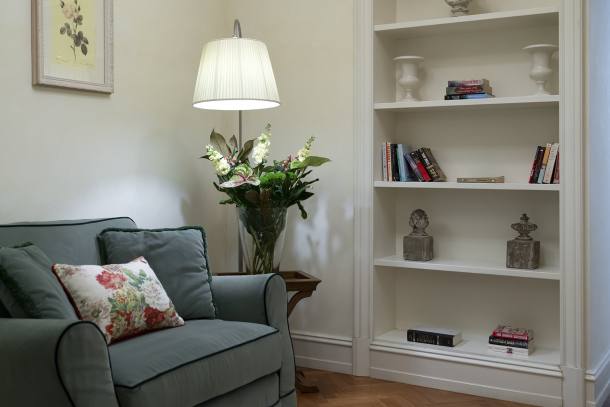 The Santo Spirito three-room apartment is one of the best solutions for those who want to stay in an apartment in Florence. With its 70 square metres, it is a spacious, comfortable and quiet apartment overlooking a private garden. Sleeping up to 5 people, it has a double bedroom, a living room with a sofa bed and a further chair bed in the hall. The convenient kitchen area allows to cook for up to 6 or 8 people. The apartment has a bathroom and an en-suite bathroom in the double bedroom.